Take note, Kim Kardashian: Holly Madison isn't chugging gallons of Quick Trim in order to resemble a science classroom skeleton. Quite the opposite, in fact:
The former Playboy model is posing in the latest issue of Life & Style, untouched and un-photoshopped.
"I'd rather be overweight and curvy than super thin with no curves," Holly tells the magazine. "I'm proud of my body."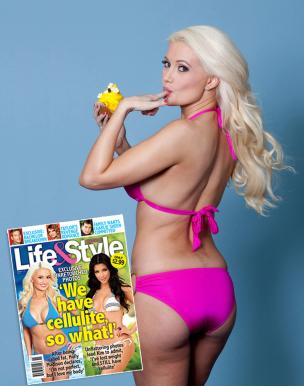 But what about that cellulite, Holly?
Yes, "I have cellulite," she says. "And had it even when I was at my absolute thinnest. I'm never not going to have cellulite. People need to just accept that it's there and maybe dress accordingly or use body makeup to cope with it."
As for Holly's former boyfriend-sharing pal, Kendra Wilkinson? We'll all be seeing how she does this season on Dancing with the Stars.
Rozonda Thomas Brittny Gastineau Kristin Kreuk Raquel Alessi Ashlee Simpson